Designing a modern and beautiful kitchen that meets the customer's specific requests is no easy task. However, with Wellborn cabinetry selection, anything is possible. In this stunning home located in Sandestin, FL, the owners wanted a kitchen that truly stood out from the rest.
Bronwyn Landis, the lead designer at Elite Cabinet Designs, explained, "To achieve this unique look, we turned to our Wellborn Aspire line." Wellborn's Aspire Cabinetry is an innovative collection of frameless cabinets that offers a wide range of door styles and materials, from wood to high gloss designer laminates.
For the kitchen's back wall, a high gloss superwhite finish and a flat frameless door design were chosen. This sleek and minimalistic design not only provided a modern look, but also created an illusion of spaciousness in an already large kitchen. The goal was to maximize storage space for kitchen appliances without cluttering the countertops.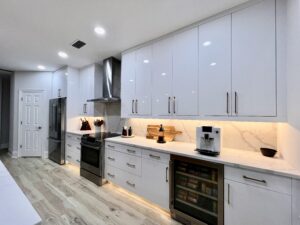 Precise measurements allowed for a perfect fit of the double door fridge, oven, and built-in drink fridge, each of which were placed separately on the bottom. The stainless-steel appliances worked seamlessly with the white glossy cabinet doors and light-colored quartz countertops, resulting in an intriguing contrast. Under-cabinet lighting was added to highlight every detail of this elegant kitchen. Additionally, a large backsplash slab was installed to create a seamless transition and make the space appear even larger.
For the island, which measures 11 feet long, the Wellborn Aspire line was also utilized. To add contrast while maintaining a biophilic design feel, the Husk Adler finish was chosen. This natural finish made a bold statement in the room and created an inviting atmosphere for the entire family. The frameless door design allowed the island to seamlessly blend with the opposing wall of cabinets.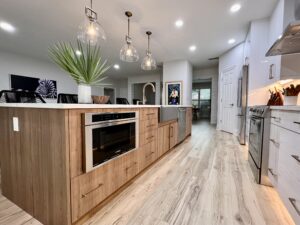 Convenience was also taken into consideration with the design of the island. The microwave was cleverly tucked away for easy access, alongside a touch-to-open trash can drawer. The island also featured a large stainless sink and a dishwasher, with ample counter space for food preparation. Bronwyn commented, "The brushed gold hardware throughout the kitchen really pulled together this flawless design, and we absolutely love the way it turned out!"
To complement the overall design of the kitchen, the flooring was provided by Renovation Flooring. They selected Mohawk RevWood Premier Morena Bluffs, which features 55-inch-long planks and offers a natural look that perfectly aligns with the customer's vision. To see more visuals of this project, visit this link.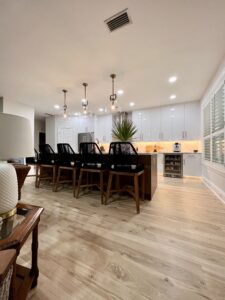 Overall, this modern kitchen design in Sandestin, FL showcases the versatility and elegance of Wellborn cabinetry. With the careful selection of materials, precise measurements, and attention to detail, Elite Cabinet Designs was able to transform this kitchen into a truly remarkable space that exceeded the owner's expectations.
Contact us at 850.502.4957 to start creating the kitchen of your dreams or visit elitecabinetdesigns.com and our team of expert designers can help answer any your questions.