What to look for when choosing your coffee bar and wet bar cabinets
As the popularity of home entertaining rises, cabinets for a coffee or wet bar have become a must-have feature for many homeowners. These cabinets offer a convenient storage space for all your drink essentials so that you can enjoy a cup of coffee or handcrafted cocktail whenever you want. So, if you are looking to remodel your space or upgrade your home cabinets, a coffee bar or wet bar is an excellent option to consider. Here are some features to look for when choosing coffee bar cabinets or wet bar cabinets.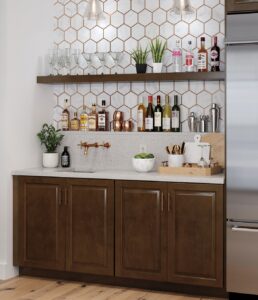 Size and Configuration:
The size and configuration of the cabinets must match your space. If you have a small space, a compact coffee or wet bar cabinet will work wonders. On the other hand, if you have a large area, you need something more substantial. Therefore, selecting the right size and configuration is vital to ensure that your cabinets are functional and fit within your space.
Convenience:
One crucial feature of coffee and wet bar cabinets is convenience. Look for features such as adjustable shelves, pull-out drawers, and soft-close hinges to make your cabinets more user-friendly and functional. Convenience features such as these allow you to organize your drinkware, ingredients, and bar accessories effortlessly.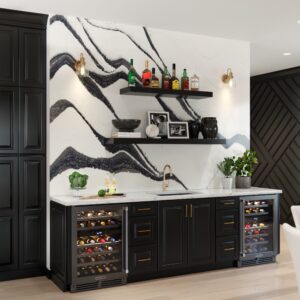 Material and Finish:
The material and finish of your coffee and wet bar cabinets should complement the rest of your home's decor. Whether you prefer modern and sleek or rustic and warm finish, there are countless options to choose from. You can have cabinets made from wood, metal, or glass, and the finishes can range from matte to shiny. Select a material and finish that suits your taste and complements the style of your home.
Lighting:
Lighting is an essential component of coffee and wet bar cabinets. It can provide both ambiance and functionality by illuminating glasses, bottles, and other items stored in your cabinets. Lighting also provides an opportunity to showcase your drinkware collection. You can choose from different types of lighting, including under-cabinet lighting, overhead lighting, task lighting, or accent lighting.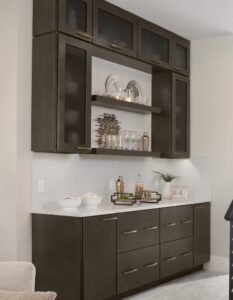 Accessories:
Lastly, accessories are the finishing touches that complete your coffee or wet bar cabinet. They can add functionality or aesthetic appeal. So, choose accessories that suit your style a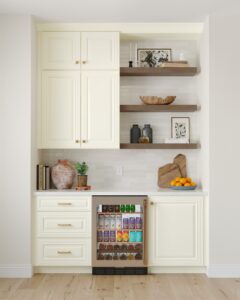 nd preferences. Some essential accessories to consider include wine racks, glass holders, drawer dividers, and stainless-steel ice buckets.
In conclusion, coffee and wet bar cabinets should be functional and complement the rest of your home decor. By considering the size and configuration, convenience, material, finish, lighting, and accessories, you can create your perfect bar storage space that meets all your needs.
Our team of cabinetry designers at Elite Cabinet Designs can help you find the best coffee bar or wet bar cabinets and accessories for your entertainment space. Call us today at 850.502.4957 and schedule a free consultation!